Green Baby Blanket; Painful Photography Session
2007 Finishes: Knitting
Finally, my first finish of 2007! This was my UFO for January, and I actually finished it a few weeks ago, but somehow never managed to post it. I'm trying to clear up my backlog of "things I meant to post about, so here it is! I would do the traditional yarn/pattern/etc. thing under the picture, but I made up the pattern as I went along, and I forget what the yarn was. Some sort of worsted weight 100% cotton that I found at Building 19 a while back.
Here's what happened as soon as I spread the blanket out on my (Dewey's) sleeping bag on the couch:
In his haste to start biting it, he jumped and grazed my camera-holding hand. Three bleeding fingers: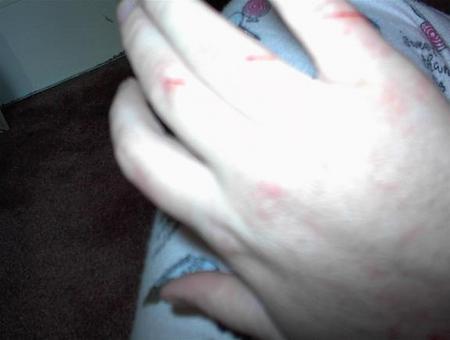 (Yes, wearing pajamas! Blurry, because I had to take it with my off hand.) Of course, while I was taking that picture, he jumped on the table and started drinking my cocoa. Sigh. My "spirited" kitten. So. I think you'll forgive me and understand why I'm not taking pictures today of the bag of yarn I just got at the Superbowl Sale.
Posted by Kat at February 4, 2007 03:31 PM