Better Late Than Never
Randomness
My ISP has been having issues this week, so I'm a bit behind. This week's Sunday stitching update: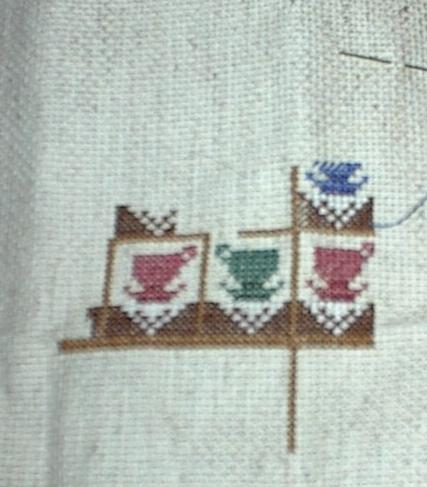 Yeah, I know, not too exciting. That's why I wasn't too worried that I couldn't post it on Sunday. I'm going to wait and update my stitching pages this Sunday with both weeks' updates.
Now some non-Wednesday randoms:
1. I started Shedir last night. Well, by "started," I mean that I cast on last night and knit about half a round this morning. I'm using Jaeger Roma, and so far it seems a bit splitty but sooo soft. Although perhaps a bit more suedey than I anticipated when knit up. This is definitely a "pay attention" knit, though, so I will probably be starting a simple scarf for Knit Unto Others this weekend as well.
2. NaNo update: Still behind, but not irredeemably behind. At 17,000-something. My goal is another 10,000 between today and Sunday, which will still have me behind, but less so.
3. My copy of Victorian Lace Today is waiting for me at the bookstore. I'll get it tonight. Wheeee!
4. The local oldies station became "Boston's Holiday Music Station" yesterday. I'm actually happy about this - I love Christmas music. I'm just a bit frustrated that it has to be the one oldies station in the area that transforms. Why couldn't it be a station I don't normally like to listen to? Where am I supposed to get my oldies fix now?
5. I've been going crazy the past few days because they've been beta testing a new application in the empty cubes across from me. Which means they've been loud, and periodically standing in my cube, and plugging things in to my power strip, etc. But I think they're finally gone. Whew.
6. Have you listened to Lime & Violet yet? No? What are you waiting for? I'm rationing myself - one episode a day while I catch up. I can't believe it took me this long to find them.
7. Another recent podcast addiction: the BBC Radio Newspod.
I feel like there were a million other things I wanted to say, but of course I can't think of any of them. Hmm. Oh, I did want to make sure that you all were aware that I'm blogging over at Yarn Life now too. And please, if you have any ideas for Yarn Life, let me know!
Posted by Kat at November 16, 2006 07:38 AM