Socks are for feet.
Olympic Knitting 2006
So I had one of those moments today. Those moments when you think to yourself, "Those socks sitting on my shelf are very nice, but hey! Socks are made to go on feet! I could wear them!" Um, yeah. My Olympic socks. I've been admiring them plenty, but I realized that I hadn't actually worn them yet. But I was seeing a long-distance knitting friend today so I decided it was the perfect day to try them out.
Before I went out, I asked my roommate to take a few pictures, so here you go! See? I told you they weren't as ugly as the last picture made them look!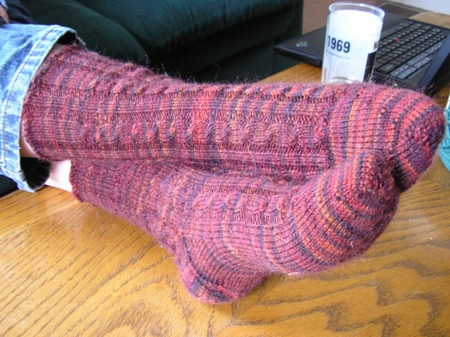 Tonight I am determined to finish Branching Out and start Clapotis. Wish me luck!
Posted by Kat at March 26, 2006 07:59 PM