Happy birthday, Roe v. Wade
Feminist
,
Meanwhile, in the outside world...
,
The blog people
,
Today on the Internets
,
Warning: Liberal
Today is the 33rd anniversary of Roe v. Wade. Honestly, this is an issue I've struggled with, but I have come to realize that the goal is the creation of a world in which abortion is not necessary. Since we do not live in that world, however, abortion needs to be safe, legal, and available. So I am joining hundreds of other bloggers in "Blog for Choice" day. Click on the icon for more information and to see the list.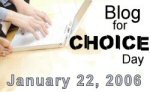 Posted by Kat at January 22, 2006 09:09 PM