Commitment to Loveliness, August 3
Jumping on the bandwagon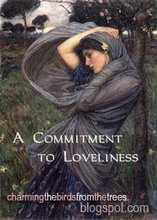 Jumping in a bit late this week: Joining the fun at Charming the Birds from the Trees...
1. Finish writing my birthday thank you notes.
2. Finish making a going-away present for a friend.
3. Clean off my desk.
4. Bake something fun this weekend.
5. Make time for Bible reading every day.
Posted by Kat at August 5, 2008 01:58 PM