Commitment to Loveliness, July 27
Jumping on the bandwagon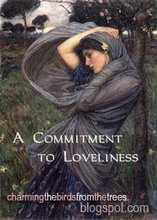 Joining the fun at Charming the Birds from the Trees...
1. Actually iron my clothes for the week.
2. Wear skirts or dresses each day.
3. Write thank you notes for a few early birthday gifts I got.
4. Buy a new bathmat.
5. Go see what the Morning Prayer service at the church in my new town is like.
Posted by Kat at July 27, 2008 06:52 PM