Commitment to Loveliness, September 2
Jumping on the bandwagon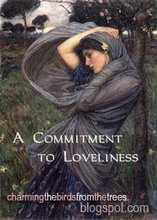 I loved doing this last week. My poem (Shakespeare's Sonnet 73) is just about memorized - I found that memorizing while kneading bread this morning worked well. I'm working on my list of birthdays, but I haven't had time to find cards yet. The leaves are definitely starting to change, although it was all yucky and hot today. Bah. I did well with the earrings and necklace each day, and I have one more dishcloth done and two almost done. ANYWAY. New list for this week:
1. Actually fix my hair each morning, instead of just brushing it and letting it hang.
2. Get back in the habit of lighting pretty scented candles in the evenings, as long as the kitten-safe place I found remains kitten-safe.
3. Wear skirts or dresses to work at least twice.
4. Start knitting Christmas gifts (finally).
5. Read at least a few pages of Jane Eyre every day.
Posted by Kat at September 3, 2007 07:41 PM