Baby hat - done!
2007 Finishes: Knitting
Yes, I realize that the only projects I've finished so far this year have been for infants. I think it's a combination of how small and cute the items are and how firm the deadline is.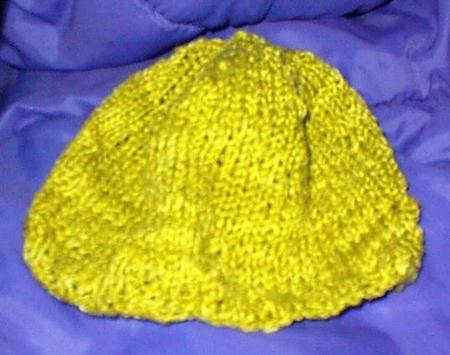 Yarn: Manos del Uruguay Cotton Stria in... Olive? Pistachio? Avocado? None of the pictures look particularly close to the yarn in my hand.
Needles: 4.5mm Brittany birch DPNs
Pattern: Made up as I went along
Comments: I'd been wanting to try this yarn for years, and I'm glad I finally did. It's extremely soft and gorgeous to work with. It does not, however, show texture well, and it was so impossible to get the stitches even that I eventually gave up and made it a design element.
Posted by Kat at April 4, 2007 10:05 PM