Just in the nick of time...
Hey, look! I finished something!
I did it! One of my 2006 resolutions was to finally finish a sweater, so I realized that today was my last chance. I found this baby sweater that had been waiting to be seamed up for months now, and finished it this afternoon. Yay! I have knit a sweater! A small, easy sweater, but still! I'm hoping this gets me over my sweater-finishing phobia.
Pattern: Baby Kimono from Mason-Dixon Knitting
Yarn: Sugar 'n Cream in... well, something hot pink
Edits: I did icord ties instead of attaching ribbon. I think it's cute. And I couldn't find the book today, so if there were any weird sewing-up instructions, I apparently ignored them.
And on Friday night, I finally finished my Secret Santa scarf: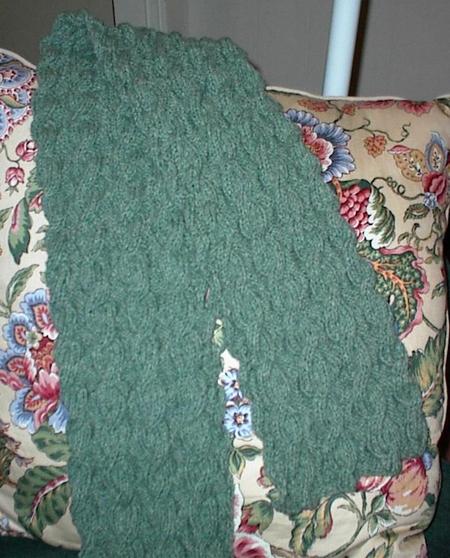 Pattern: Reversible Cable Scarf from Cables Untangled
Yarn: Bartlett Yarns Fisherman 2-Ply in green heather
Edits: Just ended a bit sooner than the pattern said, but I think it was long enough.
Comments: Loved this pattern! It's easy to memorize but held my interest, and it looks great. Will definitely be doing this again.
Posted by Kat at December 31, 2006 04:35 PM