He's okay!
Kittens are cute.
Not that you were worried. But today was Dewey's first day home alone, and I was worried sick all day. When I got home, though, he was fine. And so was the house! Other than a pillow on the floor, nothing was disturbed. Such a good boy. Maybe tomorrow I will be able to spend a smaller percentage of the day panicking.
Here he is with his new bungee toy, which will hopefully help keep him amused while I'm at work:

For FemiKnit, a picture of Dewey looking at the kitten in the window: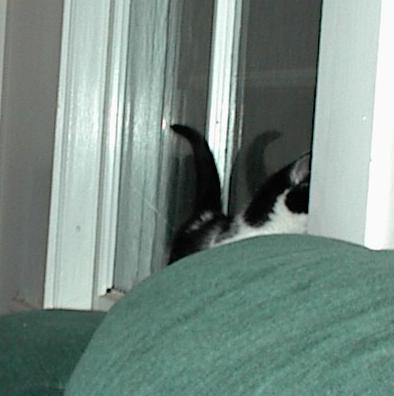 And one from last night:

EDIT: Thanks to Chris pointing out that the bungee could, despite the label of "independent play" on the packaging, be a strangulation risk, that toy is no longer in the Kitten-Safe Area. It's now here in the living room, where he only plays with supervision.
Posted by Kat at December 12, 2006 10:38 PM