Shedir done!
Hey, look! I finished something!
One good thing about being home sick: Shedir is finally done!
Pattern: Shedir from Knitty
Yarn: Jaeger Roma
Comments: This pattern was super fun, but took FOREVER. I'd definitely make it again, but not on a deadline. The friend that this is for is having her surgery on Tuesday, so I'll send it to her sister's house on Monday and hope that it makes its way to her by the end of the week.
And I assume you want to see more kitten pictures? Yeah, I thought you did. Oh, but first: thank you all for your wonderful comments. I'm trying to reply individually as I can, but I'm still feeling pretty ill and chasing after Dewey is taking most of my energy. So please forgive me if I don't get to all of them. To answer a few popular questions: yes, Dewey is after the Dewey Decimal System. And about the gender: I think it's a boy, but I'm not completely sure. I'll let the vet tell me. The name will be Dewey Burke for a boy or Dewey Jane for a girl, after the wonderful doctor I saw in the ER the day Dewey arrived. And I'm using male pronouns for him for now, because it's too hard to try to be neutral all the time.
So. Dewey in his current favorite spot (on the back of the couch right behind my head, watching Grey's Anatomy):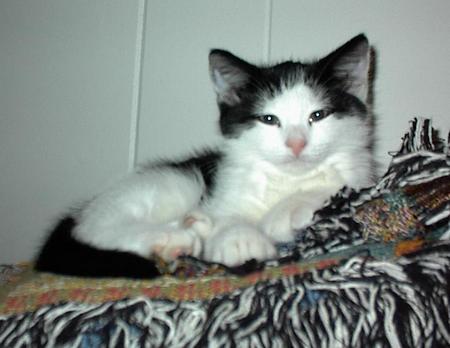 And taking a little nap (Grey's can get stressful.):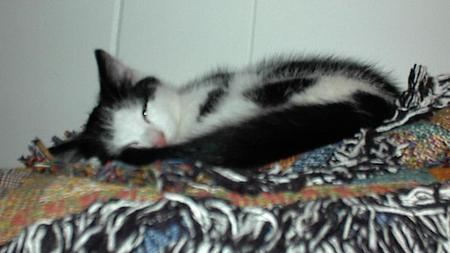 Posted by Kat at December 9, 2006 10:04 AM