Well, THAT was an exciting day.
Kittens are cute.
So this morning I arrived at work as normal, sat down at my desk, put on my iPod, started up the computer, and... wait. My chest hurt. A lot. And then my vision went sort of weird, and my ears started ringing, and I was suddenly sweaty, and a bit tingly and generally shaky. Huh. Standing up seemed like a bad idea, so I e-mailed a friend in the next row asking her to come over to my desk. (Actually, she says that I made a really stupid spelling error in the e-mail, which was her first indication that something was wrong with me.) So she came over, and I was feeling a little better by then, but still dizzy and out of it. And then I called my mom (a doctor) and she agreed that seeing someone sounded like a good idea, especially as I have sort of a history of heart problems and all.
To make a long story short, my friend drove me to the ER, where they did lots of tests and poked me five million times because I apparently have no veins and fed me a surprisingly not-bad lunch. And determined that they couldn't really find anything wrong with my heart, and maybe it was something viral, so go home and rest for a few days, and see a cardiologist in a few weeks for a follow-up.
So my friend drove me home, and guess who was there to take care of me?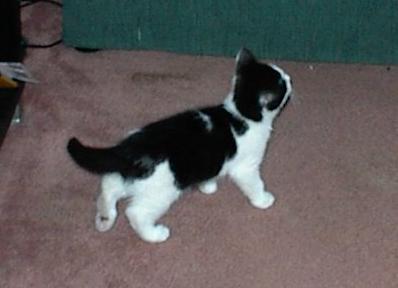 Yup. Quite a day.
Posted by Kat at December 7, 2006 04:12 PM