No more cold hands.
Hey, look! I finished something!
Wow! I actually finished something in a reasonable amount of time! I started these wrist warmers on Wednesday or Thursday last week, knit most of the first while watching the worst movie ever, worked on the other in bits on Sunday and Monday and then did most of it during D&D last night. Wove in the ends this morning. Wheee! Less than a week.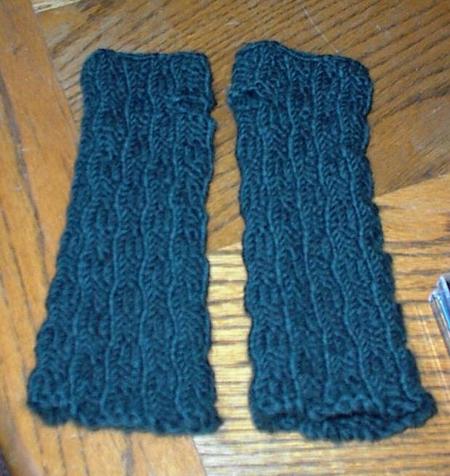 Yarn: Valley Yarns Berkshire in Forest, about 2/3 of a skein. I chose the color because it reminded me of the pine trees on my college campus (in the Berkshires).
Pattern: One Skein Wave Hand Warmers, free from WEBS with the yarn
Edits: I changed the location of the thumb hole on the second one so that the little jog at the beginning/end of the round would be on the palm of both hands, rather than on the back of one.
Time: about a week
Comments: This was a quick, fun knit. They're a little loose, but I should have anticipated that, since I have freakishly small hands. I don't really mind, because they're easy to get over sleeves or even over my leather driving gloves for extra warmth. I wore them while driving to work this morning and the texture seemed to help make them not too slippery on the steering wheel.
Here's one of them on a hand. (Try as I might, I could not come up with a way to take a picture of both of my own hands.) I think the color is a bit truer in this picture.
When I finished the knitting last night, I started swatching for A Cardigan for Arwen with the rest of the skein. I love the fabric, and the gauge is looking reasonable, but as I look at the completed wrist warmers, I'm not so sure. The yarn is a bit "hairy" and the stitch definition isn't great, so I don't think it will give quite the cable I'm looking for. And I'm considering wanting superwash for Arwen anyway. (Not sure. Thoughts?) I'll probably finish the swatch just in case, though. Maybe I'll even manage to attach a tag saying what the swatch is so that next time I'm looking for yarn for a heavy worsted sweater I won't have to do it over.
Posted by Kat at November 15, 2006 08:00 AM