Hey, look, a new hobby!
Other Crafts
So today Tracy and I headed down to the Lowell Quilt Festival. Wow. The exhibits were amazing - I took tons of pictures, and I'll get a link to them up ASAP.
And it didn't take long for me to be convinced that I need to become a quilter. What I have so far for my first project: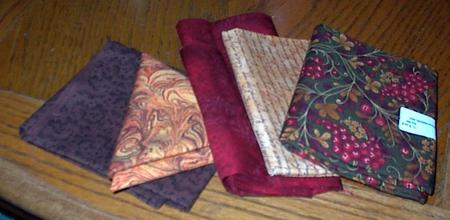 I've been working on the design - I'm thinking basically a nine-patch theme with solid strips in between. I have a few more things to pick up, and then I'm heading to Tracy's place on Thursday to get started. I'm excited!
And, of course, I had to start a fabric stash:
Two different Twelve Days of Christmas prints, with mottled purple and purple snowflakes coordinating. Fun!
Posted by Kat at August 6, 2006 08:54 PM