Hey, this blocking thing works!
Hey, look! I finished something!
,
Knitting
I've been knitting for several years, but somehow, I'd gotten away with not blocking anything. I made mostly scarves and stuff, anyway. And on some level, I think I thought the whole blocking concept was an elaborate joke being played on me by all the other knitters in the universe. Or, um, something. Because really, you do what? Wet it? And pin it to something? How does that make sense?
But then I finished Branching Out, and it was lace, and everyone said that lace had to be blocked. So I figured, what the heck, I'd give it a try. I came home from work on Thursday and gave it a little bath and pinned it to the couch: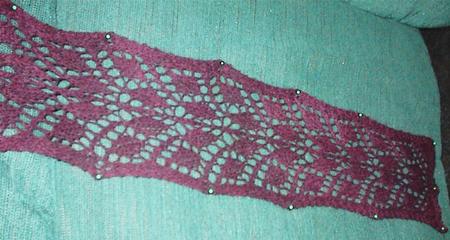 And look! It actually worked!
I believe you all now. I'm sorry I ever doubted you. (But I still think steeking must be a joke.)
Posted by Kat at April 1, 2006 07:11 PM