Let there be light!
Knitting
So. Dave's Two-Sided Scarf is Not Done. Not even close. But I had to go march in a parade with a giant purple hippo:
Yes, I was serious. In case you missed it, a giant purple hippo:
So I think that's a pretty good excuse, don't you? The hippo is the mascot of, well, The Hippo, a local newspaper for which one of my best friends is a reporter. I went along with my friend, planning to say hi to his coworkers and then go watch the parade, but someone handed me an official Hippo 2006 St. Patrick's Day Parade t-shirt and, well, there I was. It was fun, if a bit cold.
But oh, you want fiber pictures? Right. First, look at the belated Christmas present I got last night! (It's a long story.)
It's one of those nifty natural light lamps, and as anyone who has tried to knit in my living room would tell you, it will certainly come in handy. In addition to using it for knitting and reading, I'm hoping that it will help me take better pictures for the blog at night, because pictures during actual real daylight are pretty hard to come by. Let's test it out on my haul from my visit to the Woolery with Erica yesterday, shall we?
First, the find of the day:
Yes, it's really, really bright. It's silk, from Great Adirondack Yarn Co., which does not seem to have a Web site. It's going to be Clapotis. I am rather taken with this yarn. The colors! The texture! I may or may not have worn it around my neck while walking around the bookstore yesterday. (Not while working. Just on my breaks.)
Less, colorful, but still nifty:
A whole bag of Jo Sharp's Desert Garden Aran Cotton in color 201, Parakeet. And, um, wait. Ack. It was supposed to be for Chaise from The Holiday Island, instead of the Hourglass Sweater (because it would serve basically the same purpose) but apparently I can't read, because that is not in fact the yarn called for in that pattern. (My wonderful yarn store owner said "Here's the book that goes with that yarn" and I stupidly assumed the whole book went with the yarn. Oops.) So. Any suggestions for 600 yards of this yarn?
And last but not least: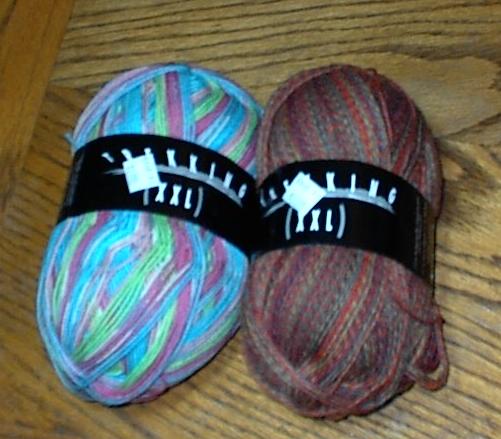 Because really, who has enough sock yarn? It's Trekking XXL, of course. The orange (it's more orange in real life) will be for Project Spectrum next month, and I think the other might be for Jaywalkers.
Now I just have to finish something so I can start all these things.
Posted by Kat at March 19, 2006 08:27 PM