Sweater lust
Knitting
Since the Olympics ended, I've been basically wanting to knit everything in sight. Boy, did I start my Rule of Ten at the right time. I think it's a combination of suddenly having the freedom to knit things other than the socks and of the Olympics getting me even more excited about knitting and, oh, finishing things.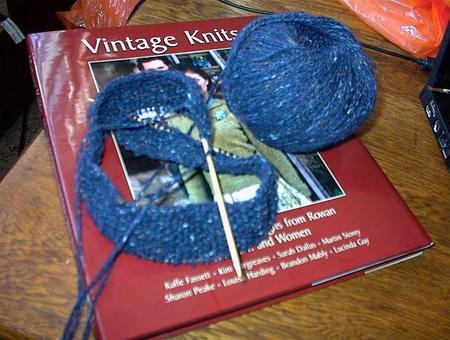 So far I've managed to stick with the lovely Salina, but that doesn't mean I haven't been looking. First of all, have you seen the Knitty surprises? I love Starsky. Love love love. I think the yarn for it will be my prize for finishing my first sweater - probably Salina, or maybe the baby Aran, or maybe, um, the other one I'm about to talk about. In any case, as soon as I have a sweater, any sweater, totally done, seamed, blocked, everything, I am allowed to order the yarn for Starsky.
The other one is something I've been thinking about for a while - a light cotton sweater, oversized, with a wide neck (to be taken on and off easily), for use on cool spring and summer Sunday mornings when driving around going to yard sales and parks and stuff. (Well, that's what I do on such mornings, at least.) I was almost ready to start designing this sweater myself when I found it - the Hourglass Sweater from Last Minute Knitted Gifts, except in sturdier cotton. Probably Knitpicks Crayon. And that would only be about $16, so I'll probably be ordering it soon, along with a few other smaller things I've been wanting from Knitpicks to get up to the free shipping limit. I'd like to have that sweater done by, say, April. Eeek. I'd better start clearing some things off of my list...
P.S. This just in - my gold medal!
Posted by Kat at February 28, 2006 02:43 PM