Feeling wavy
Knitting
There's not much to see yet, but here's the Baltic Sea Stole: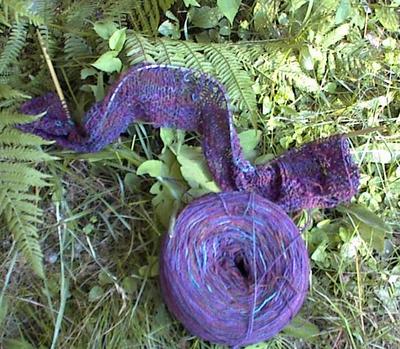 I've done the border and half a repeat (although the picture was taken a few rows ago). Yes, my stash/WIPs have finally caught on to the fact that some people's projects get their pictures taken outside, with foliage. I have been threatened with tangles and dropped stitches if I do not do likewise.
I don't mind, though, because . . . this project. I love it. The yarn. Oh my goodness. It's raw silk from Blue Heron Yarns. It is amazing. Lucious, but great stitch definition. The yarn is a wee bit stiff/scratchy on its own, but as soon as it's knit up . . . it's the softest thing ever. Really. And the pattern. Interesting but not so difficult that I have to stare at the chart all the time. And oh, they work together so nicely. Heh. Can you tell that I am loving this? I've already promised myself that I can knit another to keep in an even oceany-er colorway when this is done, because otherwise I don't think there's much chance that this one would actually get to my aunt.
I was feeling a bit melancholy tonight, for no particular reason, but luckily it was nothing that some Gilmore Girls, knitting, and good company couldn't fix. And now I'm blogging and eating leftover pizza. Then I think I'll go map out some places for our New York trip and read some Nick Hornby. Sounds like a good evening, eh?
Posted by Kat at July 23, 2005 10:33 PM