Happy New Year!
More about me than you ever wanted to know
Happy 2005! After an exciting (well, by my standards) party in Boston last night, here's how I started the morning: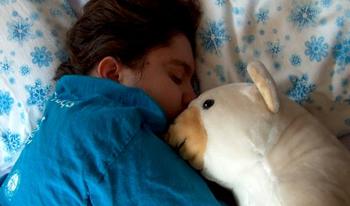 (That was me at around 9:00. My boyfriend woke up earlier, and didn't want me to be lonely, so he made sure I had a friend. Apparently I took to it quite well.)
Things to expect around here in the next few days:
1. A semi-decent layout, maybe even with some color
2. New Year's goals (I'd rather set goals than make resolutions.)
3. Links and rings and all that happy bloggy stuff
4. Knitting pictures!
5. Kittens!
Now that I've given you that teaser, I'm going to go spend the rest of the evening with my family. Hope you're having a great New Year celebration!
Posted by Kat at January 1, 2005 10:11 PM